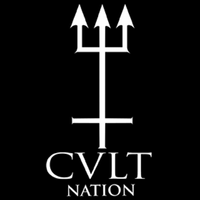 On this first day of autumn, we've released the penultimate track from Haunts – "The Lines" – along with a music video. Watch now at CVLT Nation.
This will be the last track released before the full album drops on October 1st. Here's a statement by Bryan:
"The album is a sustained exploration of place, both sonically and lyrically. In particular, we were seeking to inhabit emotionally significant locations from our lives where formative events occurred – whether traumatic or otherwise – and examine the powerful pull that those places still exert over us. The whole thing is peppered with the sounds of objects taken directly from those places, either recorded on-location or gathered and brought into the studio. Some became obvious musical elements, some are more like sound effects, and some are just tucked away in the mix, perceptible only if you know what you're listening for, just so we know they're there. While we think it's important for people to understand the general concept of the album, we're not keen on hashing out every detail. That tends to cheapen a project, I think, causing people to focus too much on the details of the artists' personal lives rather than what they as a listener or viewer get out of the art. Plus, some personal things are just personal.  
"As far as 'The Lines' goes, I can say that it incorporates spikes from the old railroad bed that runs along my family's farm in southwestern Virginia, likely once connecting to the tracks that ran behind Dan's house all the way up in Delaware. These are used musically sort of as claves or triangles. The wind chimes you hear in the song were made by my grandfather many decades ago out of old silverware my grandmother had. I heard these very chimes nearly every day that I played outside as a child, and well into my adulthood whenever I returned home.  
"The album is presented as a series of vignettes in an unbroken, circular composition. And no one piece of it is really representative of the whole. So it does feel a little strange to release single songs like this, disembodied from their surroundings. While the second half of 'The Lines' does explode into a giant, loud guitar solo with some intricate backing instrumentation, the first half of the song is one of the sparsest sections on an album that otherwise tends to be quite densely arranged. Also, if you squint, you might be able to discern the high-lonesome and old-time music influence on this song, which doesn't really appear anywhere else on the record. Kotu and I were really intent on making sure that was at least somewhat preserved in the final mix. This song also has the shortest lyrics. But to me personally they're some of the 'biggest' and most profound expressions on the album. 
"Trish is a graphic artist and does most of the visuals for the band. She created this video from scratch – just from imagining what the song evoked in her and digitally illustrating and animating it over the course of a couple months. Notably, it's unique among the videos we'll be releasing for this record because it's 100% motion graphics, no live-action footage. But I think it does a great job of bringing to life some of the imagery suggested by the lyrics, creating an appropriate atmosphere for the listener, and subtly tying back to the album art, which she also created. I hope others dig it too." 
 

"...clouds of gentle brilliance that swell into beautiful sonic storms of everything."
– CVLT Nation